We are a group of seekers, creators, visionaries – experienced IT professionals. We are crazy about functionality and modern design, that's why we seek solutions and ideas to bring those two together in innovative applications.
We implement our projects in teams dedicated to specific solutions, taking into account key competences for a particular project.
PROJECT TEAM STRUCTURE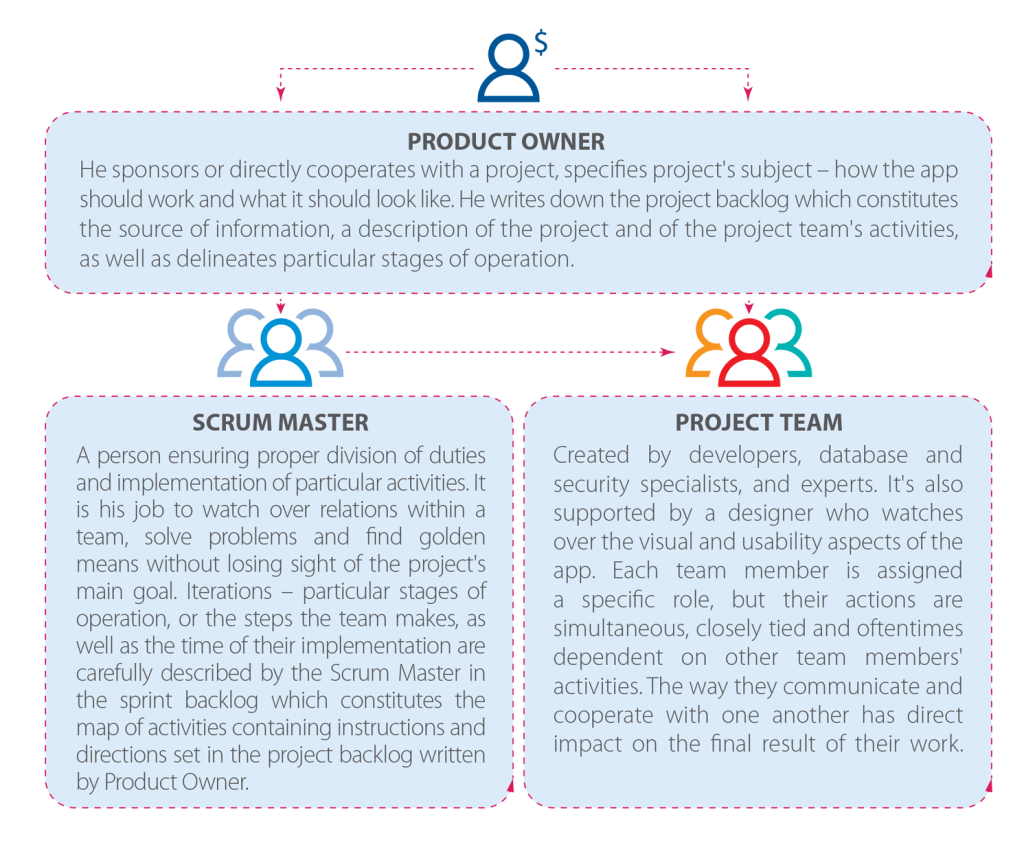 PROJECT TEAM LINE-UP

UX/UI DESIGNER  
In agreement with Product Owner and mobile developers they adjust the app's appearance to current standards, trends and recipients' expectations, delivering them in the form of mocks. Thanks to their projects everyone knows what the app is eventually going to look like. It is their solutions that make the app visually appealing, simple, intuitive and looking perfectly on every device.
BACKEND DEVELOPERS
Masters of algorithms and logic, whose job it is to make the app efficient. They watch over the app's engine. Their codes make up the entire app architecture.
FRONTEND DEVELOPERS
They take care of the functional side of the app, its responsiveness and intuitiveness. They'll do whatever it takes to make the app appealing for the user.
MOBILE DEVELOPERS
They design and develop apps for mobile devices. Thanks to their job a mobile app communicates with associated devices by downloading and showing data, further transferring the information obtained as a result of interaction with the user.
TESTERS
They will find every single bug, gap and imperfection of the code. Automatic testers prepare a dedicated testing code which accompanies backend and frontend developers' codes, checking the app at every moment. Manual testers bravely scour the codes for bugs and eliminate them with sniper's precision.
DATABASE SPECIALIST
They design, optimize and take care of the pace and effectiveness of databases. They aggregate data in order to squeeze out key information. Their cooperation with the backend as early as the planning stage has influence on the architecture and content of the app, which  in practice means that the app is useful and valuable for the user.
SECURITY
Security is not an option – it's a standard. In our case the highest standard of protection against attacks. If there is someone to take care of the protection of data transferred via the app, it is the Security people. They participate in app architecture planning, determining the most suitable solutions together with developers and UX/UI designers.
IT SPECIALIST
The job is never done in a vacuum. Codes and data are stored on servers, whose infrastructure is planned by IT specialists. Loss of data? No way. They will make sure  proper backup has been done, appropriate gear used and storage environment created.